Affected versions
This article applies to all users on all supported web browsers or operating systems accessing the Connect Fonts or Connect Assets for web platforms on https://connect.extensis.com/.
Symptoms
When logging into https://connect.extensis.com, or any subsequent page therein, you see a "System Error":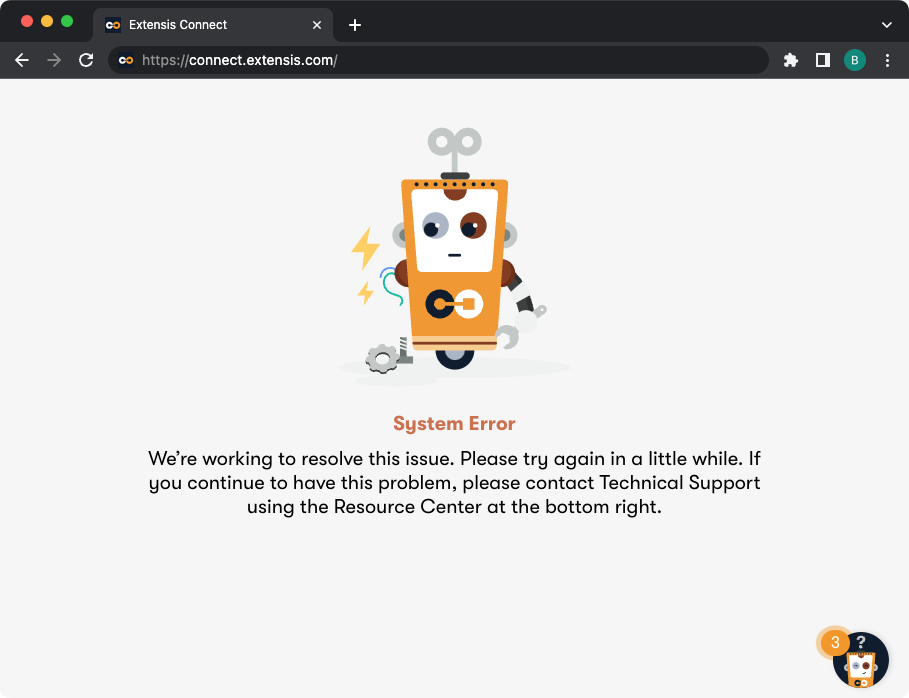 Solutions
Try these troubleshooting steps in order; if you continue to have problems, you can submit a support request and Technical Support can help you.


1. Disable your ad blocker, or add Connect Fonts to your trusted site list
Some ad blocking browser extensions can try and block elements a bit vaguely and we've seen of these types of extensions cause issues when loading https://connect.extensis.com/. You can disable your ad blocker entirely and try accessing the page again, or add connect.extensis.com to your list of trusted sites and then reload or logout/log back in, and Connect Fonts for web should load as expected.
2. Access the page via an incognito or private browser window
Try accessing Connect Fonts for web in a private or incognito browser window and login there; doing so will forego any currently-installed browser extensions and sidestep any existing website cache and cookies and the Connect Fonts for web page should load as expected.
3. Clear browser cache and cookies and try logging in again
Each web browser is a bit different. Here's how to clear cache or cookies for most of the more popular web browsers Connect Fonts for web supports:
Once that's been done, try quitting and reopening your web browser and then log back into https://connect.extensis.com/.