In addition to system fonts and fonts in the font vault, Suitcase Fusion allows you to work with two third-party sources of fonts.
Working with Adobe Fonts
Suitcase Fusion can display fonts that have been activated on the Adobe Fonts website; Adobe Fonts is part of an Adobe Creative Cloud subscription.
Note: In order to see the fonts in Suitcase Fusion, Adobe Fonts must be enabled in the Creative Cloud application.
Open Adobe Creative Cloud
Click the gear icon
Select Services, then make sure Adobe Fonts is enabled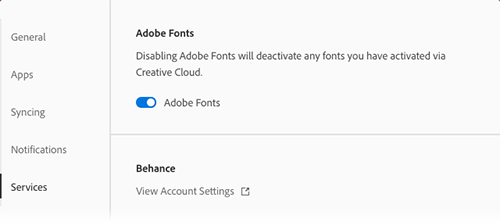 You can enable and disable fonts and create sets in the Adobe Fonts section under Third-Party Fonts as normal. If you deactivate fonts on the Adobe Fonts website, they will be removed from Suitcase Fusion and from any sets you create. You will have to add the fonts back to the set if you reactivate them.
Working with Google Fonts
Suitcase Fusion can add the fonts from the Google Fonts collection to your font vault; the fonts in Google Fonts are free for personal and commercial use. To add Google Fonts to your vault, go to File > Enable Google Fonts.
Fonts in the Google Fonts collection are updated periodically. Suitcase Fusion automatically downloads the updated versions, which may cause creative applications to warn that the version used in a document is missing. If you use a particular font regularly, you should copy the font from Google Fonts into your Font Library.