Once your fonts, workgroups, and users have been migrated to Connect Fonts, you need to remove Universal Type Client (UTC) and install Connect Fonts.
It is important to uninstall UTC before installing Connect Fonts as both applications share a background process called "FMCore." UTC's version of "FMCore" is incompatible with Connect Fonts' version, and vice versa.
Uninstalling Universal Type Client for Windows
To uninstall Universal Type Client for Windows 10 & 11:
Go to Start > Settings > Apps > Apps & Features

Win 10: Select Universal Type Client
Win 11: Select the three vertical dots next to Universal Type Client

Click Uninstall.
Windows will ask you to confirm that you want to uninstall; click Uninstall.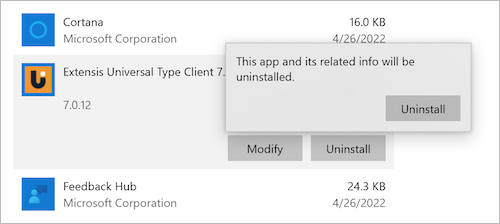 Once UTC has been uninstalled, in Windows Explorer, navigate to %LOCALAPPDATA% and drag the Extensis folder to the Trash.

The full path to find this Extensis folder is C:\Users\username\AppData\Local\ making sure to swap in your own username where applicable.
Uninstalling Universal Type Client for Mac
Download the UTC uninstaller script from https://cs.extensis.com/font/uts/uninstall-utc.zip.
Double-click to launch the script and follow the instructions that appear.
You may get a warning that it cannot be opened because it's from an unidentified developer: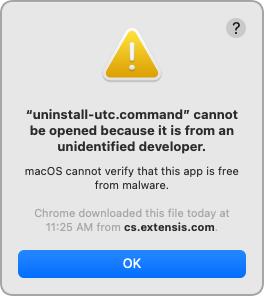 Control-click or right-click on the uninstall-utc.command file > Select Open
You will then see a different dialog box with a different set of options. Click Open.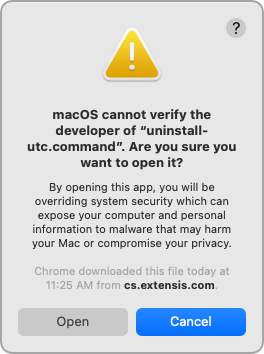 Installing Connect Fonts
For information on installing Connect Fonts for Mac and Windows, see our Connect Fonts Quick Installation Guide.
To learn more about what's new and different in Connect Fonts, go to What's new and different in Connect Fonts for Universal Type Server users?