Connect Fonts uses Licenses (also referred to as "Font License") to determine which associated fonts contain or license information in Connect Fonts.
When a font is purchased with license information, license assignments can be added for each Font or associated fonts.
1. Log in to Extensis Connect at https://connect.extensis.com/.
2. Select the Font License Tab

from the left hand column in Connect Fonts or select the New License button

from the main preview area or from the upper right hand corner of Connect Fonts while in the Connect Fonts License tab.
3. Complete the font License Information tab in the License Data Screen.
NOTE - License Name and the License Count are required fields. The font license cannot be saved without this information.
4. Once the License Information is complete, select the Associated Fonts tab and select each font(s) associated with the license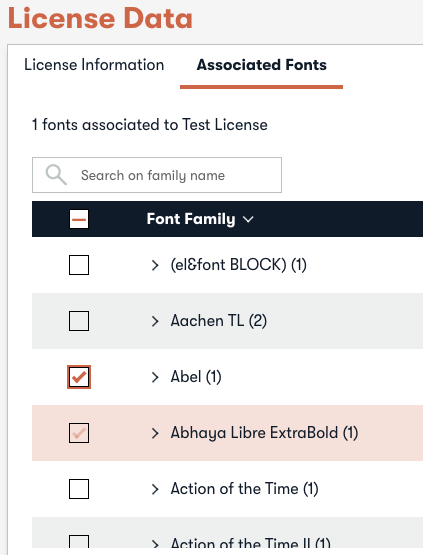 5. Once the License Information Tab and the Associated Fonts tab are complete, select Save

Also See:
Viewing and Editing Font Licenses in Connect Fonts