Check the amount of space the assets will use
Before uploading, check the folder sizes to see if you have enough room in Connect for the folder(s) you are going to upload. By right clicking on the folder name, you can select Get Info on macOS or Properties on Windows OS to show the file size of the folder.
In the example below, you will see a Current Assets folder showing a total of 206 items that is 15.7 GB in file size.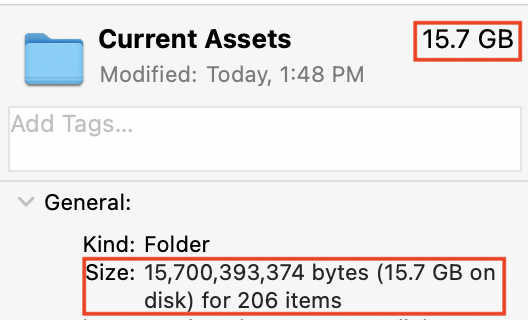 Calculate the space you will use
Connect allows each user 100GB with a Connect Fonts subscription and 1TB of space with a Connect Insight Subscription for uploading assets. You will be able to check the amount of space used overall and by individual files from the top level of your Current Assets folder.
PRO TIP:
Create smaller upload batches
If the upload process is taking too long, or if there's a risk of interruption to your internet connection, we recommend that you upload files in smaller batches by selecting fewer files or folders to upload at a time. Select a smaller group first to see if that resolves the asset ingestion time.
Uploads going slow? Test your upload speed
https://help.extensis.com/hc/en-us/articles/17053888403739
Next: