Description of Issue
This article describes how to upgrade to Portfolio 3.x from Portfolio 2.x.
Description of Environment
This article applies to all versions of Portfolio 2.x and Portfolio 3.x on all supported operating systems.
How to Upgrade
Ensure the server meets the system requirements for Portfolio 3.x
Portfolio 3.x is not supported on Mac OS 10.10, Windows Server 2008 R2, or Windows Server 2012; it is supported on Windows Server 2012 R2. The current system requirements for Portfolio 3.x can be found at: https://www.extensis.com/support
Determine the service user account used for Portfolio 2.x
If Portfolio is cataloging assets that are located on an external network share, the services will be running under a service account that has the permissions needed to access those files.
Portfolio 2.x for Windows runs as the service account that was specified during installation.
Go to:
Control Panel > Administrative Tools > Services
The Log On As column will show the name of the service account Portfolio uses. 
NOTE: The Portfolio Vault and Portfolio PG services will show up as the Local System account. They do not run under a service account.
Portfolio 2.x for Mac OS runs as the account that was used to install the application.
Go to /Applications/Utilities/ and open Activity Monitor
Go to View > All Processes
Look for "native-agent" or "native-media-processor" processes; you can see the service account name in the User column
Verify that Portfolio 2.x has no un-migrated catalogs from Portfolio Server
If you are upgrading from Portfolio Server 10 or 11, please contact you Extensis Account Manager for assistance on moving to the latest versions of Portfolio. An un-migrated catalog will have an .fdb extension in the Catalogs panel and its status will be Offline.
If you have un-migrated catalogs in Portfolio 2.x , you must either migrate them or remove them from Portfolio. Portfolio 3.x does not allow you to migrate catalogs from Portfolio Server 11 or earlier, and the server will not start properly if there are un-migrated catalogs.
For more on migrating catalogs from older versions of Portfolio Server into Portfolio 2.x, see Migrating an older installation in the Portfolio 2.x online help.
Create a backup in Portfolio 2.x
If you do not have Portfolio making regular backups then you should create one before the upgrade. This will take the server offline until the backup is complete.
Log in to Portfolio Administration
Go to Backup/Restore
Click Backup Now, then click OK in the confirmation dialog.
Install Portfolio 3.x
You can download the latest installer for Portfolio 3.x from:
http://www.extensis.com/support/
To install Portfolio 3.x for Windows:
Double-click on the PortfolioServer-3.x.x installer application.
When the installer shows the license agreement panel, click the Options button; a dialog will open where you can enter the username and password for the service account.
Check the checkbox to accept the license agreement, then click Install.
To install Portfolio 3.x for Mac OS, you must be logged in to the Mac as the user account that will run Portfolio 3.x.
Double-click on the Portfolio-3.x.x.dmg to mount the disk image
Double-click on the Portfolio-3.x.x.mpkg to install Portfolio 3.x.
NOTE: If you double-click on the installer package to open it, you may get the following error dialog: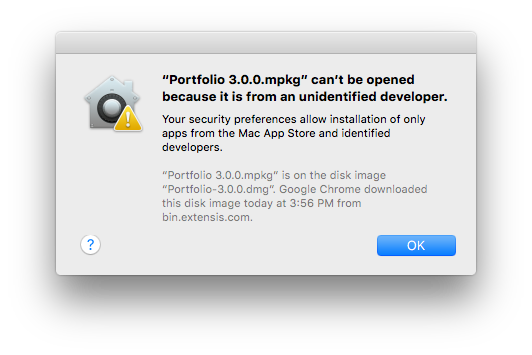 If you see this error, Control-click on the file and select Open from the drop-down menu. You should see a different warning dialog: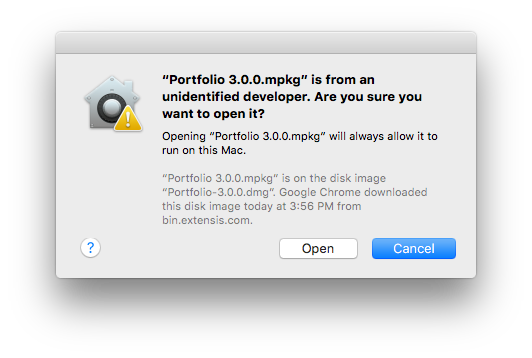 Click Open; enter a Mac OS administrator username and password when asked.
Serialize Portfolio 3.x
After the installation is complete, the Portfolio Administration application will open in a browser window.
Log in to Portfolio Administration
Click on Licenses and enter the Portfolio 3.x license keys
You can enter all of your Portfolio 3.x licenses at once, one license key per line. The license keys should be in all caps with a hyphen every four characters.
Upgrade any external media engines
If you have Portfolio 2.x external media engines installed, you must upgrade them to Portfolio Media Engine 3.x. The external media engines should use the same service account as Portfolio 2.x.