Description
When attempting to upgrade Universal Type Server I receive an "Unsupported Upgrade" error and the upgrade fails.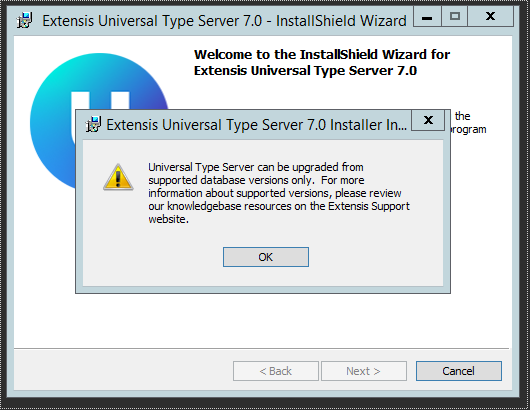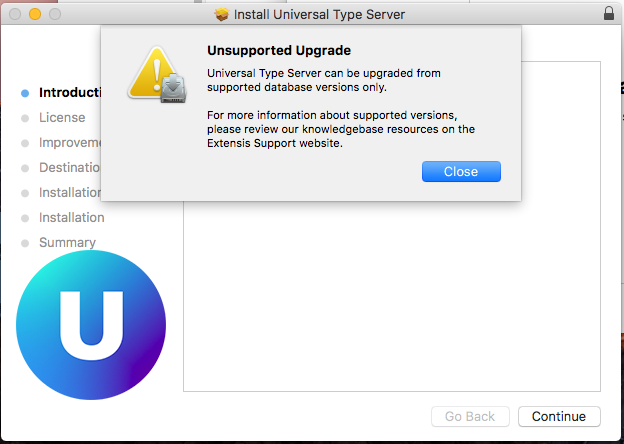 Reason
To ensure your font data is properly updated to the latest version, Universal Type Server supports only one version backward compatibility. For example, Universal Type Server version 7.x can upgrade UTS 6.x databases but not earlier versions.
Therefore, older database versions will require additional steps to be upgraded correctly.
Solutions
There are a few ways to successfully upgrade your Universal Type Server.
Follow these directions and always save a backup before attempting your upgrade.
Solution #1 - Incremental step-up Universal Type Server versions
Download the next major server version from the Extensis website.

(i.e. If you are running Universal Type Server version 5.x, you will need to upgrade to version 6.x before moving up to version 7.x)

Run the installer to upgrade your server and datastore.
Repeat the process until you are on the latest server version.
Solution #2 – Clean Installation of Universal Type Server and restore from a backup file
NOTE: Applying this upgrade method will require all users to re-synchronize again with the server and may affect Type Server performance temporarily while client systems are completing the synchronization processes.
Run the latest Universal Type Server installer.
Login to the Server Administrator console.
Navigate to the DATASTORE > BACKUPS page
Insert the file path to your backup in the 'Restore from backup file' field.
Select 'Restore Datastore'.
When the process completes, the UTS datastore will be upgraded and users can login normally again.
Supporting Articles