Problem
When I try to open Universal Type Client 7 for macOS, I get the following error message: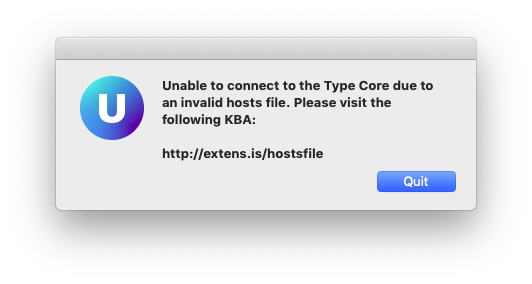 Environment
This article applies to Universal Type Client 7 on all supported versions of macOS.
Resolution
The default macOS hosts file may be missing one or more entries. The default hosts file looks like:
##
# Host Database
#
# localhost is used to configure the loopback interface
# when the system is booting. Do not change this entry.
##
127.0.0.1         localhost
255.255.255.255   broadcasthost
::1               localhost

Replace the hosts file
NOTE: The script must be run from a macOS Administrator account.
Download a helper script here: https://cs.extensis.com/font/replace-hosts-file.zip.
Decompress replace-hosts-file.zip.
Double-click replace-hosts-file.command.

Enter your password when asked.

NOTE: You may see bullets, key icons, or nothing as you type your password into the Terminal window, depending on the version of macOS you are using.

Restart the computer afterwards.
Cause
Universal Type Client uses the hosts file to find and connect to the Type Core using the loopback address (localhost). If the hosts file is not present, or the entry for 127.0.0.1 points to a name other than localhost, you will see the error message displayed above.
If the hosts file has been modified, it may be removed when upgrading to a new version of macOS. Third-party applications or network utilities may incorrectly change the localhost entry as well. For more information, see How to Edit the Hosts File in Mac OS X with Terminal.