Problem
The user receives this error: "Universal Type Client 7.0.3.pkg" can't be opened because Apple cannot check it for malicious software when attempting to install Universal Type Client on macOS 10.15.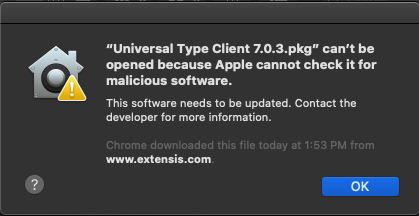 Environment
This issue happens with Universal Type Client 7.0.3 on macOS 10.15 Catalina.
Cause
Due to new security measures in macOS 10.15 the OS requires that the installer be signed by Apple in order to be scanned for malware.
Resolution
Right-click the Universal Type Client 7.0.3.pkg file.
Select Open from the shortcut menu.
Click Open in the confirmation window.
As long as the software was downloaded directly from our website there should be no concern about malware.
For additional information on macOS 10.15 compatibility and Universal Type Client 7, please read this article.