Affected versions
This article applies to all versions of Connect Fonts Desktop.
What are the font caches?
To improve performance, macOS caches information about the fonts available to the operating system. This cached font information is updated as you activate and deactivate fonts. Some applications also build their own font caches.
The font caches can get out of sync or damaged: a corrupt font could put bad data into the font cache, or an application which closes unexpectedly might damage the cache. If this happens you may see garbled fonts, the wrong font being displayed, or fonts missing from an application's font menu.
Connect Fonts can reset the macOS font cache, the Adobe Creative Cloud font caches, and the Microsoft Office font caches.
Open Connect Fonts for Mac
Choose File > Clean Font Caches
A dialog will appear asking you to confirm your choice; click Clean and Restart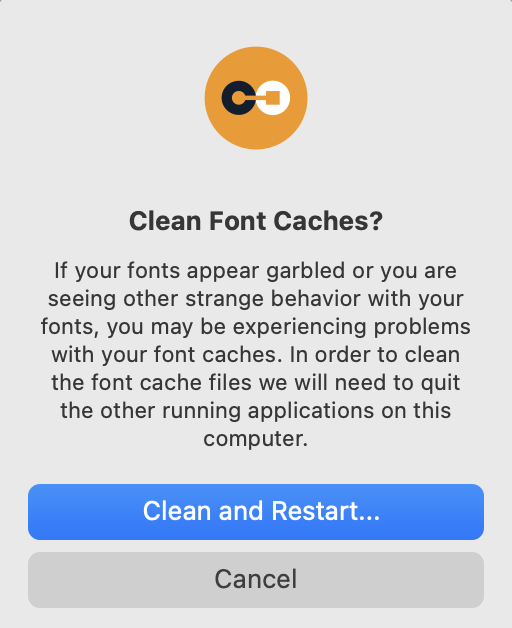 Connect Fonts will close all open applications, delete the font cache files, and restart your Mac.
What files and folders are affected by Clean Font Caches?
These files and folders are deleted by the Clean Font Caches feature. A "~" at the start of a path refers to your home folder (usually /Users/username/); a "*" in a file or folder name is a wildcard, acting as a placeholder for one or more characters.
/Applications/Adobe InDesign*/Fonts/AdobeFnt*.lst
/Applications/Adobe InDesign*/Fonts/FontMaskCache
/Applications/QuarkXPress*/jaws/ttfont/
/Library/Application Support/Adobe/Fonts/Reqrd/CMaps/AdobeFnt*.lst
/Library/Application Support/Adobe/PDFL/*/CMaps/AdobeFnt*.lst
/Library/Application Support/Adobe/PDFL/*/Fonts/AdobeFnt*.lst
/Library/Application Support/Adobe/TypeSupport/*/CMaps/AdobeFnt*.lst
/Library/Application Support/Adobe/TypeSupport/CMaps/AdobeFnt*.lst
/Library/Caches/com.apple.psnormalizer.fontcache.le.*
/private/var/folders/*/*/-Caches-/com.apple.ATS
~/Library/Acrobat User Data/8.0_*/AdobeSysFnt*.lst
~/Library/Application Support/Adobe/Acrobat/*/AcroFnt*.lst
~/Library/Application Support/Adobe/Acrobat/*/AdobeCMapFnt*.lst
~/Library/Application Support/Adobe/Acrobat/*/AdobeComFnt*.lst
~/Library/Application Support/Adobe/Acrobat/*/AdobeSysFnt*.lst
~/Library/Application Support/Adobe/Acrobat/AcroFnt*.lst
~/Library/Application Support/Adobe/Acrobat/Distiller*/FontCache/AdobeFnt*.lst
~/Library/Application Support/Adobe/Acrobat/Distiller*/FontCache/PSHFList
~/Library/Application Support/Adobe/Adobe Illustrator*/*/AIMenuFaceCache
~/Library/Application Support/Adobe/Adobe Illustrator*/*/Composite Fonts/Temp.localized
~/Library/Application Support/Adobe/Adobe Illustrator*/*/IllustratorFnt*.lst
~/Library/Application Support/Adobe/Adobe Illustrator*/*/TypeSupportCmapTemp*.lst
~/Library/Application Support/Adobe/Adobe Illustrator*/*/cmapTemp*.lst
~/Library/Application Support/Adobe/Adobe Illustrator*/*/fontTemp*.lst
~/Library/Application Support/Adobe/Adobe Illustrator*/AIMenuFaceCache
~/Library/Application Support/Adobe/Adobe Illustrator*/IllustratorFnt*.lst
~/Library/Application Support/Adobe/Adobe Photoshop*/CT Font Cache
~/Library/Application Support/Adobe/Fonts/AdobeFnt*.lst
~/Library/Application Support/Adobe/TypeSpt/AdobeFnt*.lst
~/Library/Application Support/Adobe/TypeSupport/AdobeFnt*.lst
~/Library/Application Support/Microsoft/Office/Preferences/Office*/Office Font Cache*/
~/Library/Caches/Acrobat/*/AcroFnt*.lst
~/Library/Caches/Adobe InCopy*/Version */*/FontMaskCache
~/Library/Caches/Adobe InCopy*/Version */*/TypeSupport/AdobeFnt*.lst
~/Library/Caches/Adobe InDesign/Version */*/FontMaskCache
~/Library/Caches/Adobe InDesign/Version */*/TypeSupport/AdobeFnt*.lst
~/Library/Caches/Adobe/Fonts/AdobeFnt*.lst
~/Library/Caches/Adobe/TypeSpt/AdobeFnt*.lst
~/Library/Caches/Adobe/TypeSupport/*/AdobeFnt*.lst
~/Library/Caches/Adobe/TypeSupport/*/CMaps/AdobeFnt*.lst
~/Library/Caches/Adobe/TypeSupport/AdobeFnt*.lst
~/Library/Caches/Adobe/TypeSupport/CMaps/AdobeFnt*.lst
~/Library/Caches/Tasman Browser.cache
~/Library/Caches/com.microsoft.browserfont.cache
~/Library/Preferences/Adobe Illustrator*/*/AdobeFnt*.lst
~/Library/Preferences/Adobe InCopy*/Version */*/CompositeFont/AdobeFnt*.lst
~/Library/Preferences/Adobe InDesign/Version */*/CompositeFont/AdobeFnt*.lst
~/Library/Preferences/Adobe InDesign/Version */CompositeFont/AdobeFnt*.lst
~/Library/Preferences/Microsoft/Office Font Cache*/
~/Library/Preferences/Microsoft/Office*/Office Font Cache*/