Affected versions
This article applies to all versions of Connect Fonts and Suitcase Fusion.
Finding PostScript Type 1 fonts
Type 1 fonts will show as "PostScript" in the info panel. Multiple Master fonts (a variant of Type 1 fonts) will show as "PostScript - MM" in the info panel.

You can search for Type 1 fonts in your font libraries and system font folders - see image below
Choose Edit > Find Fonts. A grey box will appear at the top of the preview pane.
From left to right: select "Type

" from the first dropdown >

"matches

" from the second >

"

PostScript

" from the third menu.

Click the

plus (+) button to add a second search condition and repeat the above instructions while substituting

"

PostScript - MM

" in the third dropdown.

NOTE: This search can be saved by selecting the floppy disk icon next to the "Search In" field.

Removing PostScript Type 1 fonts
Select the fonts in the search results and choose Edit > Delete. In the alert that pops up, click Remove from Connect Fonts. Clicking Remove Fonts will remove the fonts from the selected Library, not necessarily from all libraries.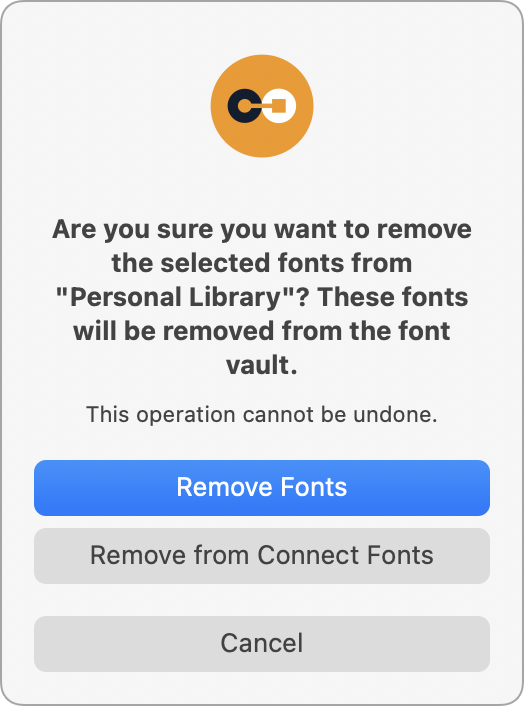 Using PostScript Type 1 fonts
Connect Fonts recognize and support PostScript Type 1 fonts. You can add the fonts to your font vault, preview them, and activate or deactivate them.
Recent versions of macOS, Windows, iOS/iPadOS, Android, and other operating systems and applications have deprecated or removed support for PostScript Type 1 fonts. As support for Type 1 fonts disappears from creative applications and operating systems, we can't provide support for using Type 1 fonts activated by Connect Fonts in specific applications that otherwise do not support them.
As the OpenType specification increases in popularity and adds new features, Type 1 fonts appear limited by comparison. Type 1 fonts created for Microsoft Windows aren't compatible with macOS, and vice versa. Type 1 fonts do not have support for Unicode character sets, color glyphs, custom ligatures, or variable outlines.
The Type 1 font suitcase file stores critical font data in a resource fork. Other operating systems don't have support for forked files, making it easy to destroy the resource fork of a font suitcase if you move them from computer to computer or between platforms.
Converting PostScript fonts to another format can also destroy the resource fork as well as introduce a host of other potential issues. See our Converting Fonts is a Bad Idea video for more details why.