Affected versions
This article applies to all versions of Suitcase Fusion.
Symptoms
When you open Adobe After Effects, Adobe Illustrator, Adobe InCopy, Adobe InDesign, or Adobe Photoshop, you get an error dialog. Clicking OK causes the application to open normally, but font auto-activation doesn't work.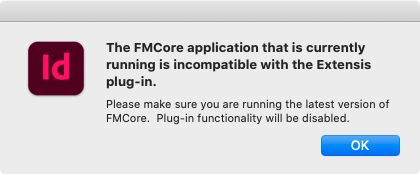 Solution
The currently-installed plug-in is incompatible with the version of Suitcase Fusion you are currently running; this can happen if you've updated Suitcase Fusion but haven't updated the plug-ins. This can also happen if you have migrated from Universal Type Client to Suitcase Fusion without updating the plug-ins.
You can check the status of the plug-ins by opening Suitcase Fusion and choosing Suitcase Fusion > Manage Plug-ins.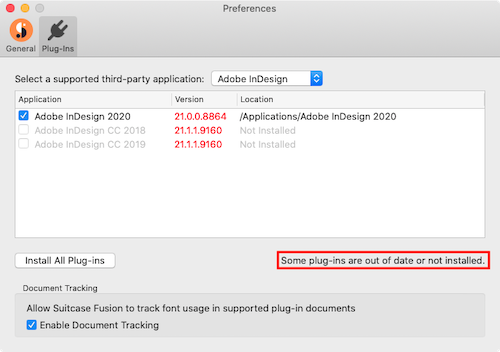 Click Install All Plug-ins; you may have to enter your macOS administrator password.
Once the plug-ins have been updated, close and reopen your Adobe Creative Cloud application; the error should not appear and auto-activation will work normally.