Affected Versions
This article applies to Connect Fonts and all versions of Suitcase Fusion, on all versions of macOS.
Symptoms
When you open Connect Fonts or Suitcase Fusion for Mac you get an error dialog; clicking OK quits the application.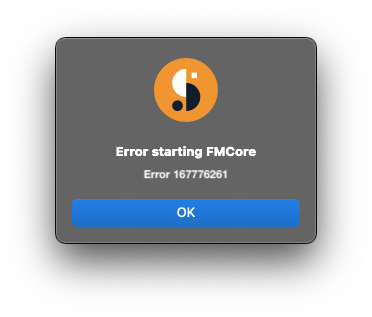 Solution
There are two common causes with different solutions for this error.
Did you recently migrate an old computer to a newer computer using a program such as Migration Assistant or Time Machine?  If so, there could be an issue with Connect Fonts seeing an incorrect Home Directory
Otherwise:
A file or folder that Suitcase Fusion for Mac is trying to use can't be created, read, or written to.
User permissions changes, macOS upgrades, and/or migrating user data between Macs may have caused unexpected system-level changes that Suitcase Fusion can't reconcile as is, and will need to be addressed.
Purging user preferences and letting Suitcase Fusion create a fresh set of preference files upon reopening the app can fix this.
Quit Connect Fonts or Suitcase Fusion and any open Adobe Creative Cloud applications.

Open Activity Monitor (located in /Applications/Utilities/).

Search for the process "FMCore", select the process name, click the X in the toolbar, then click Quit when prompted:

In the Finder, choose Go > Go to Folder.

Enter ~/Library/Preferences/ and press Return.

Locate any files that begin with com.extensis and drag them to the Trash.

Restart your Mac.

Relaunch Suitcase; you will need to make some basic preference selections and enter your Mac's admin password to reenable the auto-activation plug-ins.